This painted aerial photograph shows Dillon's great grandfather Irvin Crissinger's Ford dealership, Crissinger Motor Company in Rebuck, PA.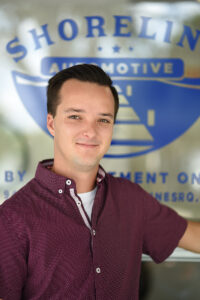 THE FAMILY TRADITION
For Shoreline Automotive owner Dillon Lee, the car business has been passed down through the generations. It all started in Rebuck, PA, when Dillon's great grandfather Irvin Crissinger opened up Crissinger Motors in 1923. At the time of Irwin's passing, his dealership was the oldest Ford dealership in the United States. His son-in-law Bill Strohecker took over the dealership in 1987, and not too long after, Dillon's father Greg Lee opened up his own dealership in 1992 — Greg Lee Ford in Yanceyville, NC.
SHORELINE AUTOMOTIVE
After working as sales manager at a car dealership in Port Charlotte, and with generations of automotive history to guide him, Dillon followed in his family's footsteps and opened Shoreline Automotive in Sarasota in July 2018. Shoreline was founded on the belief that buying a car should be a personalized, stress-free experience. We strive to exceed customer needs with quality cars and honest, upfront communication of cost and vehicle condition. To learn about Shoreline's location and hours, click here.
WHAT SETS SHORELINE APART?
No Dealer Fees
No dealer fees and upfront pricing means that buying through us is like buying through a private seller, except we save you the trip to the DMV!
Appointment-Only Model
Our appointment-only model allows us to meet customers at times most convenient to them, whether on the weekend or after work.
Low Overhead Costs
Cars are kept indoors in our warehouse and not on an outdoor lot. Low overhead costs allow us to price our vehicles more competitively for the best deal for you.
Low Pressure
We believe in paperwork-free test drives and no pressure sales.
Personal Experience
Shoreline Automotive is owner-operated, so your experience from test drive to purchase will have one point of contact instead of multiple salespeople and managers.